BENITTA
LEARNING
PROFESSIONAL CERTIFICATION COURSE
Log In to Connect With Members
View and follow other members, leave comments & more.
Module 3: How to Teach Online
START TEACHING ONLINE
---
Welcome to the course We'll start by finding the most pressing challenge we need to address in this course. You'll also meet the FutureLearn team, introduce yourself, and start finding others like you within this emerging community of practice.
---
The challenges of teaching online
---
Teaching online isn't easy but it can work and be rewarding. Moving your teaching from face-to-face to online in response to a global crisis is a necessary solution, but it comes with many challenges. In this course, we want to give you space to identify, support and tackle these challenges together. A note on course terminology We know you are a wide audience, and might use many different words to describe your roles and the roles of the people you work with. To keep things consistent, we're using the following definitions: you, the people enrolled on this course, are learners as well as teachers; the people you teach or work with outside of this course are students. We had done a general survey to identify what aspect of online teaching feels most challenging for teachers and you would be surprised to soo the results.
---
How to use this course
---
Empower each other We designed this course to be community-driven, with Frame of MInd social learning pedagogy at its heart. Our course community includes teachers and educators at all levels and disciplines, from primary to higher education, and we encourage you to learn from teachers in different contexts as well as connecting with people working in the same areas as yourself. We will touch on many different approaches – not just whether to deliver a class over video call or upload a recorded lecture, but also how to facilitate discussions and collaboration between your students, and how to encourage and support them in self-guided learning. We hope this course serves to develop a community of practice through allowing us to share ideas, support each other, and build libraries of shared resources. Learn together: how to work through this course We know many of you are under time pressure, and we want the course to fit alongside your day-to-day teaching practice, without being a burden or extra 'homework'. We are following a task-based approach, with the majority of stated learning time (this course is described as 2 hours per week) feeding into work you'd be doing anyway: teaching, planning, adapting, and reflecting. We've structured each week so that you have a chance to examine two themes or aspects of online teaching – one related to supporting or engaging your students, and one related to approaches, tools, or delivery ideas – and discuss it with the community. Each week you're invited to take what you've been discussing up to that point, choose the parts which are most relevant and useful to you, and apply it in your teaching. After that, you will have a chance to come back to this course, reflect on what went well and what didn't, and share feedback and ways of moving forward. We hope in Weeks 2 and 3 you will build on what you started in Week 1, growing in confidence as you develop insights and skills. We're starting off by looking at the importance of putting your students at the centre of the decisions you make, and ways to adapt your existing teaching practice to an online context.
Discuss the benefits and challenges of moving classes from face-to-face to online
Develop plans to set your students up for success
Create and share approaches and techniques for the continuity of moving teaching and learning online
Be open
Just as many of you are being asked to teach in an entirely new way, putting this course together as a rapid response to the teaching situation the current COVID-19 pandemic has thrown us into is a new experience for us. If you're discussing the course on Twitter, Facebook, or the social network of your choice, don't forget to use the course hashtag

#myframeofmind

.
---
Who are your students?
---
Learning in a new context Maybe you've known them for months, or years. You may have spoken to them in seminars, met their family at parent-teacher nights, or delivered one-to-one support and guidance. Or maybe you know little more than their name or student number. They've been to your classes, but you've never really interacted, met, or communicated as much as you'd have liked. Whoever they are, students around the world are finding themselves in a new learning and interaction environment, and for many, moving away from the familiar may leave them feeling overwhelmed or alienated. Many online tools, theories and approaches for learning are presented as instant solutions. At FutureLearn we believe that before jumping into content creation or embedding technologies, it's vital to stop and consider the end user. These are the people who will be working with and learning from the decisions you make. As this point, we'd like to note it's important to remember many of the considerations about your students will be beyond your area of influence. This activity is not about finding solutions. It is not your responsibility as teacher to try to 'fix' everything. But you can develop your empathy and understanding of who your learners are, use that to inform your choices, and signpost to support or guidance where possible. Who are your students? A shortcut to preparing them to succeed Your students are individuals and of course there will be many variables, but simply trying to put ourselves in the situation of our students can be a shortcut to working out how to support them and ready them for success in online learning as best as we can. Before trying to think of teaching solutions or approaches, try taking a little time to pause and ask yourself who it is you're doing this for. If you're already in the middle of working online, think of this as taking a step back to look at the bigger picture. General considerations
Who are the students for whom you're designing or planning (age, grade, level etc)?
Where are they in their overall course of study?
Who might they rely on to help them or facilitate their learning (particularly important with young students, teens or young adults)?
Digital literacies, connectivity, accessibility
What physical setting might they be in when engaging with you or your teaching?
What devices or connectivity might they have access to?
How comfortable are they with the internet?
How digitally literate are they?
Have they previously learned online? (Remember, that doesn't have to be formal - they may have watched instructional videos for recipes, collated information to choose a holiday, planned a route, or learned a dance)
Study skills, health, pastoral support
How adept are they with time management, personal planning, autonomy?How might the sudden move from physical educational space to an online context impact their mental or emotional health?What health or accessibility issues might have a different impact on their ability to succeed with online learning than on their success with traditional learning?What emotional factors or external stressors might impact their ability to succeed?There will be many more considerations depending on your context… what questions have we missed?

Your task (10-15 mins)

We have pulled the above prompts into a persona template, which you can find in your resources. We recommend you make a copy for yourself and work through the questions in the template, which are a copy of those presented above.
---
How could you prepare your students for success?
---
In the last step you started to focus on who your students are. Establishing a picture of your students should mean you're more ready to support them with appropriate materials or ideas and make sure that what you're communicating is sufficiently graded, relevant, and useful. What could you get going in twenty minutes? We know you're short of time. In the resource section you'll see some 20 minute tasks (.docx ) with practical ideas to get going with each of the following three areas: 1) Create and share a study/engagement/task plan with key dates and times Knowing what is coming up and when it's happening is important to every student. Set clear expectations in terms of the amount of time required for both directed and self-directed learning activities each week. Even if you can only plan one week ahead, it will help keep everyone on track. 2) Start a central place for sharing helpful links, guidance, support Keeping resources in one place means students know where to find extra digital literacy information, pastoral or study support. 3) Create community and collegiality When communicating with your learners, consider (while adhering to institutional guidelines and appropriacy) how you can build connections between yourself and your students, as well as encouraging student-to-student connections.
---
Your action plan
---
You've made steps to understand who your students are, followed by investigating and sharing approaches which might prepare them for success in online learning. Now it's time to decide what you're going to do this week to positively impact your students' chances of success. This may be as new to you as it is to them, but try not to worry - just be honest and open with your students. 1) Create and share a study/engagement/task plan with key dates and times
Produce

Create a communication plan: central place for announcements a bulletin board (you might already have something on a Learning Management System). Scale back: resist the urge to multiplatform your students with emails, Whatsapps, Automated messages. It may confuse them or overwhelm them.
Add reminders for times to update this bulletin

Collaborate

Include links for students to create their own timetables, explanation on study time, important dates
2) Create community and collegiality What can I do this week to create a sense of community and collegiality?
Collaborate

Get students interacting: Add in low-stakes conversational and reflective prompts to my course content

Read Watch Listen

Reach out and connect: Plan an end-of-week communication plan: a motivating email, a quote, image to share to students

Produce

Get learners creating: model a sharing task: ask students to share a photo of where they're working, a description of something that helps you study (others can guess what it is), a video of the view from your house, a recording of environment

Collaborate

Students as co-creators: ask your students to suggest ways to build community, then agree on these

Investigate

Webquest: ask your students to share a good news story or similar this week
3

) Start a central place for sharing helpful links, guidance, support How can I help my students discover helpful links, guidance, support?
Produce

Ask my students what they need: this could come from Needs Analysis or Diagnostic Assessments - or, create a list of resources and ask your students/their carers to let you know what is or isn't useful.

Practice

Try out different ways of centralising important information: involve students in deciding which is easiest or most practical to use.

Investigate

Send key links or guidance to learners: ask them to read and summarise to the rest of the cohort.

Collaborate

Set up a tech-support drop in session: before trying to deliver online, give students (and you) chance to figure out the tech in a pressure free environment (ie not when you're about to try do synchronous tutorials). They might help you figure out the best way to use synchro sessions- or maybe that you don't need to use them at all!

Produce

Needs analysis: create a speedy survey to find out more about your learners - who they are, barriers, accessibility etc. You could try tools such as TypeForm, GoogleForms, or even asking them to respond by email or a simple poll.
Digital literacy diagnostic assessment: identify what students need to be able to do to work through the course you're planning, and express this as 'can do' statements for learners to self-assess
---
Planning online teaching - where to start
---
You have started to consider how you'll prepare your students for success. Now we want to help you prepare (or reuse) an online teaching activity that supports your students. Working without the gift of time to prepare Preparing for teaching online should follow a process. Given the current situation we are adapting the usual approaches. When we support a new teacher going online we would follow a process that typically aligns to these stages:
The above course lifecycle is an overview but can be briefly described as:
Plan

around context: how you teach and your students' needs.

Design

a student-centric approach to storyboard a course.

Build

content and media: rich resources and activities for teaching and learning.

Run

is what FutureLearn calls a course with active teaching and learning.

Review

and evaluation: ensuring we reflect and iterate based on feedback.
Right now even the above looks luxurious. Going through all the usual stages would feel challenging and costly in time. So instead, we're starting with a light version:
Start with your learners' needs
Reuse known and proven methods and resources.
Design for learning in a quick and agile way.
Reflect and iterate for improvement.
We realise you may be faced with anything from running a few teaching sessions to potentially working out how to put a whole curriculum, or more, online. We also know your students may have never studied online before, and we want to help you prepare for this too.

what's your immediate priority as a teacher?

Is there something your learners need right now? It may be a project, revision, a clear schedule, an induction to learning online or a series of smaller activities to maintain continuity from the classroom. Stop to think about your immediate priority right now. We want you to consider your unique situation but to also find and follow others in the same place as you. You may have shared this in the Welcome Area discussion, but your situation could be quickly changing due to the challenging circumstances.

Time saving tip

You'll want to personalise your teaching but we recommend starting with inspiration from others and existing resources. In the next few steps we are strongly encouraging you to find an approach you can learn from or reuse quickly. It's OK to do this anyway but especially useful in a time of urgency.
---
Lesson planning and learning design considerations
---
In the previous step we started to think about your immediate needs for moving to online teaching. We also know the internet is filling up with resources and platforms that you can use with your students. So how do you decide which ones to use? We're going to guide you through. Alongside your learner's needs, consider these guiding questions to help shape your approach;
What have you been mandated to do by your institution?

If you have been advised to take your teaching online in a particular way, for example by video conferencing, then you'll need to find resources on how best to run an online session.

How much time do you have?

If your classes need to go online starting next week, this will change your approach compared to having a couple of weeks to prepare materials ahead of time.

What digital resources do you already have available to reuse?

​​​​​​​

Your institution may already have recorded videos and text documents, or can you find it in google which have already been created on your topic?

Does the teaching really have to be synchronous / live?

​​​​​​​

Your first reaction might be to host live sessions with learners on web conferencing software, but instead could you head towards asynchronous, which can be more inclusive. Look to prerecord, share resources via your Learning Management System (LMS), a shared online folder or messaging platforms such as email or WhatsApp instead.

Do any of your students have any accessibility or literacy issues?

​​​​​​​

Some of your learners may have disabilities which will affect their ability to access and benefit from online resources. If students speak English as an Additional Language (EAL) they may need extra support.

Why do you need to do this activity? Is it absolutely necessary to student learning?

​​​​​​​

​​​​​​​

At times like these, you may find that some activities just aren't crucial to student progress - swap them out.
---
Planning your online activity
---
In the previous step we provided some links to online resources to get you started. Now it's time to start planning an online activity for your students: broadly similar to making a lesson or session plan. Remember this does not need to be live delivery, and may mean doing something different to what you'd do face-to-face. You could be setting project work, challenging your students to complete physical activity tasks every day, or encouraging them to start a learning diary. Keep in mind your overall learning objectives and outcomes - this can really help refine your thinking and cut to the essentials. Your presence Part of planning is what we at Frame Of Mind call 'educator presence' - your students want to know you're there, so how will you maintain your presence? You might want to keep in touch with your students regularly by email, directing them to resources you've found, or you might have access to a Learning Management System, or even a social media page, where you keep in touch. Be realistic - you don't want to bombard your students or their parents from all angles. We recommend you explore the resources out there and experiment. Remember to consider your own teaching style and think of ways to maintain this online. A note on Creative Commons licensing It's important to remember that if you use online resources with your students, you should consider how to appropriately acknowledge where those resources came from. We've included a link to the Creative Commons website for more information on how to use Creative Commons attributions in the 'see also' section below. https://creativecommons.org/licenses/
---
Put it into practice
---
We've focussed on two areas: supporting your students and identifying approaches to putting your teaching online. Now it's time to apply what we have covered to your teaching and learning context. We're going to ask you how it went later, but for now, it's time to go teach! We are all supporting you from a distance and you can always come back here to ask for advice or share how you're getting on. Remember to support your students and consider this advice:
Pedagogy should come before technology
Be prepared to re-think structure and content for the digital environment and provide lots of scaffolding
Don't assume that your students are magically adept at online study just because they may be experienced consumers of technology
Most of all, be kind to yourself. We're all working under pressure here and sometimes we can forget to look after ourselves in the rush to transition to online. Take a moment to get away from your screens, get some fresh air, and recharge your batteries. Then, take a moment to appreciate all that you've done already, and try out your learning activity with your students!
---
How did it go? Reflect on your practice
---
Running without looking is a risky sport! In challenging times it always feels far more productive to keep going than it does to stop and check where you're going. However, established course design and teaching development models encourage a fifth stage: reflect and review. It's as important for you to do this as it is for your students after a key activity or milestone. We've built reflections into the course as a weekly activity, even though we know you're pressed for time. In this first week we are reflecting on the current situation. This helps us think about what worked well to re-use and, because not everything goes perfectly, how we can review those parts and note what to improve for next time. We recommend 10-15 minutes for this task. Within the discussion below, or in your own way (such as a notepad), we encourage you to consider some, or all, of the following questions to support an active reflection: How did it go this week?
What did you do to engage and support your students with the transition to online learning?
What single thing would you change for next time?
Did anything feel disconnected or like you were losing student engagement?
Review and improve
What kind of student feedback did you get, if any?
How would you review and improve this activity next week?
Are you happy to run with this again and build a different activity for next week?
Would you be willing to share your outline for how to run this activity for others to learn from?
Moving at a different speed?
We'd also recommend you complete this task nearer the end of your week. If you're moving at a faster pace, or catching up, that's okay. Try to do this in your own time or read the reflections of others and see what they will change for next time. You can learn from their experiences.

Time-saving tip

Reflection is valuable but can feel like a time-sink when moving fast. You can set reflection tasks for most types of students as long as you structure it in a simple enough way. Questions like those above can be used with your own students too - and asking them at the end of the week helps consolidate their knowledge and adds an important activity. Knowing we have an activity (reflection), at a set time (each Friday) with an expectation (share something) means you're building structure.
---
Engagement through interaction
---
Many teachers transitioning to online report that the interaction with our students, sharing a physical learning space, is what they miss most when teaching online, and students notice it too. Online learning and teaching can be a lonely experience, but there are ways to establish and maintain contact with your students. First, it's important to keep a positive tone in your interactions with students, and even more so given the situation we find ourselves in. As we mentioned in Week 1, educator presence is key to engaging students and reassuring them that they are supported, while encouraging independent learning. Below are some suggestions for activities and approaches to establish and maintain contact in your classes. Introductions If you are teaching a group of students for the first time, or even if you've been together in the classroom previously, record an introductory video, audio, or written text about yourself. Show or describe your personal work space and the view out your window, talk about your hobbies, passions or pets - it shows you're human! Ask your students to do the same; it helps to understand their situation and will give you ideas for learning activities that draw on their interests. Check ins and reviews Another good practice is to start the week with a message to your students every Monday. You could send an overview of what's coming up and ask them for PPPs:
report a

plan

they've made
some

progress

made
and any

problems

they're experiencing.
For younger students this may be useful to do with their parents to help you get updates and find themes. You can check in with students as a group through the week, asking about activities they are working through. If students don't respond you can contact them or their parents individually. Each new week helps them to reflect on their progress, share any problems or reach out for help. it will help you review planned learning activities and an overview of what they are working on next.

Safeguarding

For teachers and parents/carers working with students under 18, it's important to consider online safety. One way to do this is to set some ground rules for online interactions, for example being supportive and respectful of each other in emails and other messages, or establishing rules for how and when to respond during synchronous events. You can establish these cooperatively with more mature students so they feel they have ownership of them; younger students will need to follow more strict rules / laws (especially under 13s). We have included some links to child online safety guidance from UNICEF and other sources in the 'see also' links below. If you find links to online child safety guidance for a different country, feel free to share them in the comments.
---
Balancing online and live with offline and asynchronous learning
---
Think about your learning on FutureLearn - it's asynchronous and flexible. You fit it around your life and your schedule. Synchronous and asynchronous The challenge of engaging and supporting students for synchronous sessions starts with connectivity but becomes quite personal. Not all students can get online freely. International time zones make this especially difficult. Beyond inconvenience, live events can be less accessible due to the lack of transcripts or subtitles. Technological issues arise such as limited bandwidth or reduced connectivity which exclude people and make learning very challenging. Online and offline We are recommending you think carefully about how much you're asking students to be online. Being always connected to the internet is demanding and unreliable, not just for live sessions. Offline can also be asynchronous which this gives the highest level of flexibility for students. Offline allows students to study at their own pace. However, it also requires study skills, personal discipline and a clear structure to follow. Student support and making demands You should be mindful of asking student to attend many live sessions. It will increase the amount of support they'll need if they experience issues. If they can't connect, they may fall behind and if being online and live is your way of getting progress updates, you may not know of students who are struggling the most. Finding the right balance for everyone You only have so many hours with your students each week - use them wisely. For example with 20 hours (yours will vary) we recommend 1 or 2 hours for live / synchronous online sessions and to avoid scheduling single live sessions with a long duration. The remaining should be planned as asynchronous and offline activities. Your task (10 mins) Consider the key learning activities from your existing lesson plan / course schedule and review how they'll be delivered. Consider synchronous activities with all your students online at the same time a scarce resource. We've made a worksheet to help and avaliable in your resources and See Also section. Use them to list a summary of your planned teaching activities in the grid and then add a checkmark to the columns - like the example below. This will help you visualise the overall balance between synchronous & asynchronous, online & offline. Example output from the task:
Later in the week we'll come back to this with how to reshape or plan new activities that can help to reduce the demands on your students (and you) to be always online and always trying to connect to live events. Discussion What's the most valuable activity for you to do online and synchronous with your students? And which of these can you make less demanding on being a live, online event? Share with others, learn from the changes they are making and see how it impacts your plan for ensuring student support and success.
---
Structure and direction
---
In the previous step we compared synchronous and asynchronous, as well as online and offline approaches to teaching and learning. Now we'll consider how developing a regular learning structure and giving clear directions when teaching online, just as in the physical classroom, can help motivate and engage students. Setting a timetable A clear timetable will help you organise your preparation and teaching time and set clear expectations of what students need to work on any particular day. we suggested creating an initial study plan for your students. You can develop this into a timetable that sets learning objectives for the week and indicates the time students need to spend on various learning activities. Set clear time expectations for each activity, so students know when they need to engage and when to take a break. Remember that live classes might need to be negotiated if students only have access to a computer or other device at certain times, or if students live in a range of timezones. Encouraging independent learning Teaching online offers opportunities to design learning activities that require more independent study. Try starting with small tasks asking students to work independently either online or off. Independent study is valuable, even with younger students. Giving clear directions When planning online learning activities it's important to make instructions clear and concise.
---
Students' learning environments
---
In the classroom and campus we control many aspects of the environment - we provide a safe, inclusive environment conducive to learning and teaching. Once this is taken away, we need to support students in their own learning spaces. This can include:
Students' physical learning environments
Tools and devices
Connectivity
Personal support
Physical learning environment
Children, teenagers, partners and everyone else are all at home right now. Aside from all the other strained resources the ones we need to be mindful of for our students are:
Space and comfort
Bandwidth / connectivity
Noise and disturbances
Time and schedules
Safety and pastoral duty
Many are invisible and increase a broader range of student support challenges. Your students may also find they have a new teacher, their parents, supporting them while also balancing their own work, family and personal life.

What tools and devices do they have?

On top of the physical environment are the tools and devices your students have. Unlike the classroom or campus, you've lost control over being able to provide the basics. They have been disrupted and may not have access to the resources they had only weeks ago.

What kind of connectivity do they have?

Internet networks are under strain as people flock to their home and mobile networks for connectivity. Another reason to reconsider live events, students with only limited time or bandwidth reduces their connectivity. You can't assume they can always connect to the internet, another reason to focus on asynchronous and offline - it improves the low-bandwidth experience.

What physical spaces are they in?

Students will be limited by the space they can study in. Desks will be shared, or eaten from at other times. Chairs are likely to be hard and uncomfortable. Some students may be working from their bedrooms in increasing discomfort. Not all our students returned to safe spaces; and they may have returned to very real threats to their wellbeing and mental health which they had previously escaped.

How can we be more mindful and supporting?

These unprecedented and challenging times will affect everyone differently, some student support areas to be aware of are:
Inclusion and engagement
Pandemic-induced anxiety
Feeling/being isolated
Struggling ourselves.
We all act differently to these but we should not shy away from mentioning them either. We need to adapt and maintain student support services while also being mindful of our limitations and always remain compassionate. With our students, ourselves, and others - we have never had to do this before. We can't fix everything immediately, but we can learn and improve.

Your task (10 mins)

Consider how you'd ask your students to find the strengths in their personal learning environments. Guide them by the points made in this step but keep it simple. You may want them to share a description, rather than photos or video, which will help focus on the positives. It's not recommended to showcase environments as it may create a social divide between students. The more you can understand their local context it may open up areas to provide them with increased support. If you have personal contact with your students - you could ask them to open up more directly with you personally. Here are some topics to discuss:
Check they are OK and not at risk
Describe their physical learning environment
Ask for which devices they can use (and when)
Set personal timetables, when can they learn? (Builds from Week 1)
Ask about people - who helps them study?
You might not have the magic wand to fix your students' learning environments but you can try to understand them and show support during these challenging times.
---
Guiding principles for selecting or designing engaging approaches
---
What should we keep in mind when designing or selecting tasks or approaches for engaging and motivating online learning experiences? This week we have discussed the crucial role of engagement through interaction, explored the benefits of asynchronous learning, the importance of keeping your students aware of structure and giving clear direction, while being mindful of our student's learning environments. Over the next steps we have practical quick start ideas to get you planning, selecting or creating engaging and motivating student-centred teaching and learning experiences for your students. Before exploring how these approaches may work in practice take a moment to read through the guiding principles we've chosen. We feel these should be applicable to any context. 1) Design for asynchronous learning (where possible)
More flexibility - e.g. time zones, fit around life
Less requirements for data, bandwidth, computer access etc
Accessibility - e.g. transcripts, closed captions, self-paced
Lower stress on educators and students
Opens up creative teaching and learning possibilities
2) Promote autonomy and independence
Develop autonomy - try to make students stakeholders in their learning
Give time and space to explore
Give some choice - find something they want to do
Allow for differentiation - scaffold for those who need support, challenge others
Give clear touchpoints to monitor progress, produce, give/receive feedback
3) Do more with less
Select approaches which could be built on or expanded
Break things up and engage more deeply
Where appropriate, the teacher acts as facilitator
Design to lower stress on you, your students, their parents or carers
4) Focus on Learning Types
We're not talking about VARK models or learning styles - we are focusing here on what it is you're expecting your students to do to engage with the activities you prepare for them. Putting the student learning type at the centre of the plan means we are less likely to throw material at them without a clear idea of what they're supposed to do with it, or whether it meets their needs. It should keep students focused and on-task, and is a good starting point for creating teaching and learning experiences that will motivate your students.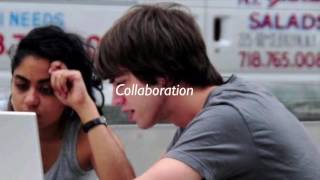 This is an additional video, hosted on YouTube.
Discussion
Which of the learning types would you like to promote in your teaching online? How might you do this?
---
Providing support, challenge, and choice
---
We know our students are not all the same. Those parents or carers amongst you will know that there is no one-size-fits-all approach to keeping young students engaged and on task. As educators you doubtless will have met and worked with students of varying skill sets, backgrounds, educational history, motivations and experiences: all of which impact their learning in various ways. When working online and asynchronously a simple starting point is to have a clear understanding of what the learning outcomes for the session are. This will help you identify different ways that your students can meet these outcomes, and what you might do to support them in getting there. By considering how to offer support, challenge and choice in learning design, we are working towards creating a more equal learning environment: what is taught becomes more accessible and more appealing - and therefore, hopefully, more engaging. 1) Design to Support Start off by breaking down what you want to teach into different stages, or chunks. Chunking and Flipped models (where much of the instruction and content is given to students to engage outside of 'class' time) can create learning environments where students are better able to work at their own pace. Each stage or chunk should clearly contribute to a student meeting a learning outcome. Next, identify the learning type for each of the stages you design. This will help you to pinpoint what students need to do to succeed, whether there are dependencies, or areas which might cause difficulty. Productive tasks should also be broken up into key stages, with these stages mapped to mini-deadlines or touchpoints where feedback occurs. Breaking things down will give your students time to get everything done, but kept on track with their mini-deadlines, which can also serve to encourage and motivate them to keep going. It can be helpful to consider whether any language, ideas or skills need to be prepared or 'pre-taught' before a session or activity. Identifying and supporting prerequisite knowledge or skills (such as languages and key concepts) will help ensure your students are better prepared. This could be a study skill but also a technical setup - before asking students to perform a task, have you provided them enough support to know they can complete it in a fair and inclusive manor? The Flipped or Inverted method can work well here (see resources) as students have more time to engage with key language or concepts before being asked to engage more deeply with them. Hence, for areas which might be problematic or barriers to success, scaffold with examples, samples, definitions, and models. Give students plenty of time to engage with this support, and clear instructions about how to get help if they need it. 2) Design to Challenge Add in extension activities or opportunity for further exploration of the topic. Again, be sure to express what it is you're asking the students to do by clearly stating the learning type. To lessen the load on you as educator, change the task slightly to fit the level of challenge required - think beyond adding onto a word count - you might wish to giving instructions of points you'd like to see covered, for example. It's the quality or production, not quantity, that counts! 3) Design to Offer choice Provide students with multiple ways to demonstrate their learning (for example a recording, written work, presentation). Where appropriate, involve your students in compiling these options. Most of what has been discussed here helps to uphold the learning design principles identified at the start of this activity; promoting independence and autonomy, asking your students to 'do more with less', keeping in mind the learning types, and breaking down your plans so much of it can be done asynchronously. At the bottom of the page we have collected links and resources for you to explore. Just as in Week 1, do not feel you have to read all of these resources. Skim the resources descriptions to quickly figure out which could be most relevant to you and which you might like to try out. Discussion Which approaches or techniques to support, challenge and offer choice could be suitable for your context? How might they increase engagement and motivation?
---
Students as creators
---
Earlier in this activity we examined the role of learning types - identifying what it is you expect your students to do with your teaching approach. Taking this idea of student centred design one step further is the idea of actively and expressly giving your students the space and opportunity to take ownership of their learning through creating, or working at more self-directed pace. Again, we are keeping in mind our guiding principles:
Asynchronous design
Promoting independence and autonomy
Doing more with less
Identifying Learning Types
This is a broad topic so we can break it into several subtopics.

Resources are supplied at the end of this Step.

Involve your students in identifying topic, focus, or output

Students can be co-creators in that they are more deeply involved in deciding what they're going to learn. This might be through negotiating a scheme of work, or by collaborating to choose ways they can demonstrate what they have been working on. By involving your students in what they're working on, they could become more engaged and motivated to try out new ideas.

Give ample space and time to create

Creativity involves taking what is known, what is presented, what has been explored - and recombining or presenting these ideas in new ways. To do this requires time - and, it may also require structure to strike the right balance between creative freedom and support. Project or task-based approaches work very well asynchronously and offer lots of scope for autonomy and creativity, for either groups or individuals. The following stages could be negotiated with your students:
Break the task or topic into stages or chunks
Identify the learning types for different stages
Model or demonstrate possible outputs
Define success criteria (opportunity for collaboration and peer feedback)
Give guidance on group organisation (if relevant)
Clearly state times/deadlines for updating, presenting or submitting
Present all of this as an overview from the start - no surprises!
Be sure to leave a lot of time, room and scope within for how the students decide to self-organise or approach the assignment. If planning a group or collaborative activity, things will take longer online, as your students are doing things at different times. Another benefit of longer project/task-based approaches is that while you will invest time in the initial set up, you may need to spend less time 'teaching'. Students are given the space and time to be creative and become more independent. Updates could come from students or their parents/carers with less frequency as the students have more time to spend on task.

Discussion

Which approaches or techniques to promote creativity could be suitable for your context? How might they increase engagement and motivation?
---
Evaluation - collecting feedback from students
---
How's my teaching? We all collect feedback and evaluations from our students, it's a natural part of understanding what works well, how people are getting on and finding areas to improve. We know you're missing that immediate feedback your students share; their faces, hands going up, comments made and energy shared. Online is different, you can't quite read people's reactions or involvement in the same way. In the current circumstances this is one more thing to preserve and adapt. We can also do it in ways that are manageable for us and still beneficial for our students. We've just covered the idea that students can be creators of their learning experience. A key part of that can be that you take their feedback onboard and incorporate changes. To achieve this, especially right now, we suggest you start small and make it regular. It can become part of your new routine - such as check-ins, warm-ups, weekly sessions, timetabled activities, tutorials or one-to-ones - whatever structure you're following you can also add in a few key questions to help check students are getting what they need. Example feedback collection methods:
Surveys and polls
Asking via email, messaging, webinars
Collecting data from platforms
Check-ins, stand-ups or live sessions
Pastoral and personal support
How to use student feedback
Combine it, find trends and themes
You can use happy sheets (satisfaction ranking), they're a good start
Informs iteration and improvement
You can't fix everything, be kind to yourself
Be honest about what's not working, remain authentic with your students
Your task
Ask your students one question about their online learning experiences so far, and one you can act on immediately. It may be best via your existing online learning platform, an email or via any regular keep-in-touch moments/ approach you are establishing as 'contact-time'.

Note:

We recommend you make any survey-based approach anonymous to avoid issues with collecting Personal Identifiable Information (PII) due to data protection laws and best practice. Some ideas for what to ask:
Pastoral - Human connection, how are you?
Iteration- What one thing could we change to help?
Support - Who's helping you?
Technical - Any connectivity / technical issues?
Progress - Are you struggling with anything we've covered?
Planning - Have you set up a timetable / routine?
Wellbeing - Are you sleeping / eating / exercising / taking breaks?
Physical - Is your body ok studying from home / remotely?
Institutional - is there anything your organisation can provide to help? (could limit to digital, such as subscriptions / access / platforms)
And more - there are many different areas you could cover, but don't ask everything. Focus on what you can change without upheaval. There's so much more we can do for collecting feedback and evaluating how we teach. When you're new to something, short and quick feedback is more beneficial so we can iterate and improve. Remain being kind to yourself, manage your students' expectations and stay realistic.
---
Put it into practice
---
Set up a timeline, create a budget, and assign tasks. Think about how to include your partners in this process. As with any project, thorough planning, including the creation of schedules, benchmarks, budgets, evaluation and assessment tools, and documentation, can identify and correct many potential problems. This week so far we've focussed on engaging and motivating your students, and selecting or creating student-centred approaches to achieve this aim. All of this has been framed by the considerations of the impact moving at pace to online teaching is having on educators. Now it's time to apply what we have covered to your context. We're going to ask you how it went later, but for now, it's time to go teach! We are all supporting you from a distance and you can always come back here to ask for advice or share how you're getting on. We'll leave you with some timely advice from our contributors: Rebecca Ferguson, OU: "Don't focus all your attention on presenting course content. Think about the different types of activity that will help your learners to understand and engage with that content. For example, you might ask them to find and assess information that is related to the topic, or to discuss aspects of it, or to respond to it by producing a slideshow, or create a mind map to represent it." Remember to set times to get away from your screens, drink a cup of tea, coffee, maté etc. and recharge before heading back out online.
---
Reflect on your practice
---
You've probably noticed that we've built reflections into the course as a weekly activity, and even though we know you're pressed for time it's still a valuable exercise. Reflecting helps us think about what worked well and could be re-used, because not everything goes perfectly, how we can review those parts and note what to improve for next time. Reflection We recommend 10-15 minutes for this task. Within the discussion below, or in your own way (such as a notepad), we encourage you to consider some, or all, of the following questions to support an active reflection:
How did it go this week?
What did you do to engage and support your students with the transition to online learning?
What single thing would you change for next time?
Did anything feel disconnected or like you were losing student engagement?
Review and improve
What kind of student feedback did you get, if any?
How would you review and improve this activity next week?
Are you happy to run with this again and build a different activity for next week?
Would you be willing to share your outline for how to run this activity for others to learn from?
Moving at a different speed?
We'd also recommend you complete this task nearer the end of your week. If you're moving at a faster pace, or catching up, that's okay. Try to do this in your own time or read the reflections of others and see what they will change for next time. You can learn from their experiences.

Time-saving tip

Reflection is valuable but can feel like a time-sink when moving fast. You can set reflection tasks for most types of students as long as you structure it in a simple enough way. Questions like those above can be used with your own students too - and asking them at the end of the week helps consolidate their knowledge and adds an important activity. Knowing we have an activity (reflection), at a set time (each Friday) with an expectation (share something) means you're building structure.
---
What constitutes 'good' assessment and feedback?
---
Around the world, teachers are searching for ways of designing assessment and giving feedback in the online teaching and learning context. In this activity when we talk about assessment we are not only thinking of final, summative, high-stakes assessments such as national exams, but also ongoing, informal, practice or formative assessment, including those approaches which make students active and contributing participants. A note on this activity Assessment and feedback are essentially interconnected and should support active learning, with assessment leading to constructive feedback. We do not think it is advisable to consider one without the other. A well-designed assessment and feedback loop allows students to monitor their progress, and educators to teach responsively and help students to evaluate learning and set goals. Discussion Let's forget about the online context for a moment, and think about assessment and feedback from a general perspective. From your experience of assessment and feedback…
What makes it meaningful?
What makes it constructive?
You can also consider the opposite: what makes assessment and feedback less meaningful, or less constructive?
---
Assessment in the online context
---
In the previous step we asked you to consider assessment and feedback in general, not just online. Before rushing headfirst into shifting traditional assessments online, it is worth pausing to remind ourselves of what meaningful assessment should be, and identify if we have the possibility to innovate instead of replicate. Teaching and assessment in the COVID-19 context Many of you are working at pace to get your teaching and learning online, and are in the difficult situation of trying to work out how to support your students, deliver new content, and prepare them to evidence their learning. Some of you may be free to assess based on asynchronous submissions (such as pre-recorded presentations, portfolios, essays, project work) but aren't sure which approach to choose. Others (for example those teaching younger students) are considering the difficulty in assessing based solely on what is produced, which might not take into account the processes and social interactions that were part of the student producing the end result. And of course, there's the elephant in the room: the traditional high-stakes, one-chance-only exam. Students, their parents or carers, and maybe you yourself are worried about moving from the familiar format of exam-hall timed assessment to the unknown. We also know you'll want to support student revision during this time, and you'll be especially mindful of maintaining student activity. Guiding assessment decisions It is not possible for us as course educators to offer one ideal response to the problem of assessment, particularly because so many of these decisions are 'higher up', perhaps coming from official exam boards or governmental policy makers. What we can do is outline some key questions which put your students and their learning at the centre of your decisions, regardless of whether you are planning informal homework assessments or higher-stakes summative assessment. To make student-centred assessment design decisions it's worth considering:
Why we are assessing?
What is being assessed?
How it could be assessed fairly?
How assessment and feedback choices could impact students?
What are student concerns about assessments?
How assessment and feedback decisions will impact you as educator
These and other guiding questions are available with additional detail within the Assessment Planner which you'll find in the resources section at the end of this step.
---
Giving feedback in the online context
---
What is the role of feedback in online learning? When we consider feedback we are thinking not only of disseminating grades or results from tests, but also the sort of informal, incremental, just-in-time feedback integral to productive and engaging teaching and learning. Like many aspects of online teaching and delivery, feedback can take a little more planning and organisation as the ad-hoc nature of informal feedback is limited in the asynchronous online environment. However, if you have the scope to move some of your 'teaching time' to an asynchronous model, you may find that the quality of your feedback is improved as you have more time to plan and structure it. Asynchronous feedback need not be impersonal text, either: consider recording short video or audio clips to humanise your teacher presence. At the end of this step we have shared a detailed Feedback planner which will help you prepare feedback to students. Here are some key points to consider: Make it rigorous, relevant, useful, and timely
Clearly identify what you're feeding back on, when feedback will happen, and how it fits into next steps. Involve your students
Managing your students' expectations and involving them in the feedback loop means they're better able to respond to your guidance. Do more with less
Avoid giving grades which students glance at, then ignore. Make feedback part of your teaching and use it as a true learning opportunity. Discussion What has been your experience of giving feedback to students online?
---
Individual approaches to reflection
---
In the previous activity we discussed the importance of your students' feedback on their online learning. Now let's take some time to consider how we can reflect on our practice as teachers in the online environment as part of a continuous cycle of improvement. In Week 1 we introduced FutureLearn's course development cycle of Planning, Designing, Building, Running and Reviewing, and we're already planning a course review before we offer this course again. Reflecting on your teaching and making improvements is probably already part of your face to face teaching, and we think it's useful to adopt reflective practices in the online space too. Each week we've added a step for you to reflect on learning activities you have tried with your students, and we think this is a good habit to get into. Reflecting using a journal or template might feel a little like going back to teacher training, but reviewing and evaluating your online learning activities, particularly if you are using new approaches, will help you to continually improve your online teaching. One reflective opportunity you all have is to consider teaching and learning from a learner's perspective - you are all engaged in this right now! Individual reflection on your online teaching Have you ever planned a face-to-face learning activity where nothing went right? Perhaps the students were disengaged, instructions were misunderstood or at the end of the activity it was clear that most students weren't able to meet any of your learning outcomes? It can be difficult to reflect on a disastrous online learning activity and identify what went wrong when you can't easily judge students' reactions, particularly when they're learning asynchronously. In this context reflecting on your online teaching can be even more valuable. It might take time for you to work out exactly what happened and what you could do to improve for next time, but asking yourself simple questions after an activity such as:
'What went well?',
'What didn't go very well?', and
'What would I do differently next time?'
can help identify areas for you to reflect upon and then act on to improve future learning activities. You might already be familiar with David Kolb's work on experiential learning and the reflective cycle of:
Having a concrete experience (in this case teaching an online learning activity), then;
Reflecting on that experience (e.g asking yourself the questions above);
Generalising what you learned about your teaching practice, and;
Applying those insights to improve your future practice.
As educators, we are constantly learning and improving, and reflecting in writing can help translate those reflections into our teaching practice.

Discussion

Perhaps you've already had an experience where you've planned an online learning activity for your students and it hasn't worked in the way you planned. If you feel comfortable sharing, tell us about it in the comments, and explain what action you took (or will take) to improve next time. Or, if you've had a successful experience, we'd love to hear your reflections on this too. How will you adapt and apply this successful practice in future online learning activities?
---
Peer support in reviewing and evaluating online teaching
---
Reflecting on your own teaching is an important part of the professional development of any teacher, but sometimes it helps to work with colleagues to help continue improving your online teaching. Finding a critical friend The words 'critical' and 'friend' might sound unusual together, but the term refers to a colleague, usually another teacher, who can give you constructive feedback on your teaching and make suggestions for improvement. We suggested getting peer feedback on the directions you give in online learning activities; you could also share your learning designs or student feedback, or even ask them to observe a synchronous online session. You can return the favour and give your critical friend the same support. We've already discussed the pressure many of us are under at the moment, and having a friend who you can talk to about challenges you're facing is important too. A problem shared is a problem halved! Working with your community of practice The aim of this course is to create a community of practice for teachers across a range of education levels. There are thousands of learners on this course, but you might want to develop a smaller community with teachers within your institution, or with other teachers in your local area. Once you have finished this course you might find that you know more about transitioning your teaching to online than your peers. You can become an online teaching and learning champion or thought leader within your institution. If you are working alone, it can be helpful to join or create a broader teaching community for support and to share teaching and learning resources. For parents and carers working with children, you can contact school parents' groups on social media to share suggestions for engaging learning activities you have tried with your children. Discussion How are you planning to use critical friends, your community of practice, and your students to improve your online teaching?
---
Peer review - sharing your new approaches
---
Think of all the recent changes you've had to make in how you teach. We want to create opportunities for learners to practice or refine their skills and knowledge. One way is to practice here before doing it in the real world. We encourage you to participate in this peer review. We realise this is a demanding task but to stop and review your progress will help you improve. Your task (30 - 45 minutes) Using the box at the bottom - describe one of your new online teaching approaches for review by others in the course. Here are some examples of what you could describe:
One teaching and learning activity
How you engage your students
Your method of assessment and/or feedback
Student projects or creative tasks
How you check-in with students
Student-created content
Online discussions and interactive tasks
Something else!
Use following prompts to guide your contribution:
Give your new approach a name / short description.
Describe how it supports your students.
Summarise the technology / platform you are using and why you chose it.
Describe how you are collecting (or plan to collect) student feedback.
List any improvements or changes already made - where possible.
Value of participating in peer review
We strongly recommend you participate but we understand some may skip the task. The table below shows the value of participating vs skimming past / skipping:
---
Review and give feedback on other contributions
---
You're now at the point where you'll review contributions from others in the course. Task reminder We want learners to stop and think of one new approach to teach online. Below you'll see they have:
described their new approach
how they are supporting their students
challenges they have overcome
steps they have taken (or plan to take) to get feedback and make improvements.
The contribution doesn't have to directly follow all the prompts but the author should have shared at least a summary of how they are now teaching online with some of the above as considerations. Your task as the reviewer is to consider the Guidelines for this task and to offer friendly and constructive feedback to your fellow learner. When reviewing someone else's contribution please be mindful that the reviews are randomly assigned - you may be allocated one or more learners who are in a different situation to you. If you have the space, it is helpful for the author if you end your review with the following question in mind:

What would you suggest the author improved or changed?

This can help you round off your review and give meaningful feedback to the author who, like you, invested their time in taking part and wanted meaningful feedback to act on.

ASSIGNMENT GUIDELINES

You're going to be asked to give feedback on the following aspects of the author's assignment:
How much of a focus did the author give towards supporting students who are learning online with their new teaching approach?
Did the author clearly explain the technology / platform being used and why it was chosen? (they may not have had a choice!)
Has the author shared how they have (or plan to) collect student feedback for evaluation?
Please keep this window open and do not navigate away before submitting your feedback. If you close the window or navigate to a different page, you will be given a new assignment to review when you return.

James's assignment

One of my teaching approaches while working digitally has been to have frequent opportunities for us to work as a team to complete a task at the same time and follow along with one another. For example, to learn a yoga pose in front of our technology and share everyone participating via webcam. This broke the ice with videos/pictures and made students more comfortable to activate their cameras and participate in live learning sessions and not only pre-recorded sessions. Most learning where I live has been through take home booklets or pre-recorded videos which students can work through in their own time from home. I am also trying to make more use of experts on Youtube and other video sites so that students are exposed to knowledge from a wide range of people in many creative ways, which I think helps to overcome my own limitations in front of a camera.
---
How did it go?
---
We are nearly at the end of this course but we know you are still at the early stage of starting to teach online. In the last few steps of this course we want to maintain the momentum you've created and the new and revised approaches you've picked up. The previous three steps were designed to encourage a peer-based share and review process. In many ways it's our way to help you share your new approaches to teaching and give a chance for other expert teachers to give you feedback. This final discussion is your chance to reflect on how you now teach online. Discussion - for this week's reflection:
How did your week go?
What did you learn from this course/week that was effective?
What have you learned from someone else in this course that you've put into practice (or plan to?)
Reflections from the peer review step and the feedback received from peers?
You may want to consider one or more of these above prompts, and post more than one comment (or reply to others) so you can address them.
---
From course to resource
---
Throughout this course we have been professing the benefits of being kind to yourselves and your students. We have looked at how to do more with less, and how you can give students the space and time to try things out and be creative. Throughout this course we planned to:
condense the most important aspects for teaching online.
focus on the immediate priorities.
generalise and make some assumptions.
With this in mind, we want to lessen the load this week and remind us all that teaching and learning is not linear - as educators we are constantly reviewing, iterating, referring back to something we've seen that wasn't relevant then, but might be useful now. Considerations for using this course as a resource
How can you make sure you're using it efficiently?
Are you Bookmarking comments that you found useful or inspirational?
How else have you been collecting resources or noting suggestions or ideas?
Could you find more people to Follow?
The goal for these final few steps is for you to see that the course has depth and that going back over the previous weeks should keep giving you additional value as a learner on FutureLearn and as a teacher with your students.
---
Thank you!
---
How we made this course We wanted to build a course for the teaching community moving rapidly online. We started by putting the student at the centre of our considerations in the transition to online learning. The second week focussed on approaches and tools to help engage and motivate students while learning online, and this week turned to the question of online assessment and feedback. Each week we've encouraged you to plan and run learning activities before taking a moment to reflect on them, and we hope you've found this process helpful. You can always revisit any step - you have permanent access. Who helped us We've had an amazing experience putting this course together, but we couldn't have done it without support from staff at Frame of Mind and our partners. Firstly we'd like to thank Patrick Anthony, Spyro International Ltd. who has been the invisible member of the Course Team - supporting us all the way. And to Claire Lipscomb, Course Development Manager, for their tireless support and feedback. Contributors and Mentors Diana Laurillard from UCL and Rebecca Ferguson from the Open University for their suggestions and all of the course contributors whose quotes have informed the course. Thanks also to individuals who shared resources, including Lyndsay Wing from the University of Michigan and Matt Cornock from STEM Learning. You Finally, we'd like to thank you, the learners on this course. As educators we've learned so much from your contributions in the comments and appreciate the support you have given each other, suggesting resources and swapping tips. This course shows just how much we learn from each other, and this is particularly the case with teachers. Hope to see you again - take care! From the course educators of Frame Of Mind Natasha George, Patrick Anthony, we wish you, your students and loved ones good health and continued learning during these difficult times. Wash your hands, don't touch your face, and keep up the good work!
---
---
Important Instructions:
​
1) There are total of 20 questions
2) The time of the complete test for this module is 30 min.
3) Minimum pass mark is 80%.
4) You can re-attempt the quiz how many times you want.
​
Share us your experiences teaching online and how are you going to drive a change teaching online.